Plays
Life Without
"Life Without" was nominated by the Desert Theatre League for Outstanding Production (Staged Reading – Professional), Outstanding Director (Gina Bikales), Outstanding Male Performance (Arnie Kleban) and I was also nominated for The Bill Groves Award for Outstanding Original Writing.
"Life Without" is a two-act dark comedy. It opened the season for the staged reading series for Script2Stage2Screen in Rancho Mirage, directed by Gina Bikales. "Life Without" was also a semi-finalist in the Ebell Theater Playwriting Competition in Los Angeles.
Here's the "official" synopsis:
"Life Without" is a two-act dark comedy with four characters (three women, one man) set in a West Los Angeles condominium in 2005. Deceptions and manipulations reveal the complications and costs of living a life without passion. Robbie, in a committed relationship with Laurie, needs to write a play to gain tenure at her college. For her, however, academic life is an uninspiring choice and it has been her alcoholic partner, a veterinarian, who has supported them for years. New neighbors arrive and complicate things:  Stan, a hammy cabaret performer, and his wife, Sarah, a paraplegic who reluctantly supports his delusions. Their passions intersect, leading to an unforeseen ending where wants and needs are sorted out and passion is negotiated.
Below is the sterling cast for the Stage2Script2Screen production: Anita Rufus, Arnie Kleban, and Julie Rosser Balbini surrounding Barbara McReal.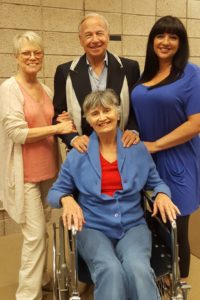 That Screwy, Ballyhooey Hollywood
It's a two-act dark comedy, consisting of four shorter plays with the same theme and all starring "women of a certain age."
One of the plays, "Janet Drake, Private Eye," was wait-listed for the prestigious William Inge Festival in Kansas
TSBH is getting a staged  reading at the Minneapolis Playwriters' Center on April 3.