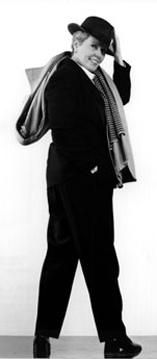 His music was everywhere when I was growing up, on the radio, on television, in movies and in my record collection. It seems as though I have always carried Frank Sinatra inside my brain. In spite of being normal in almost every other way, I admit that I have always wished I could actually BE Frank Sinatra. His music is the soundtrack of my life.
So when we put together a cabaret show, it had to be about Frank Sinatra. Some of the songs from that show are on this CD, but we've added others not commonly done. All have been recorded by Mr. Sinatra, the songs and orchestrations as diverse as his repertoire. We've included his first big hit ("All Or Nothing At All"), tunes from his last albums, and from the years in between, running the spectrum of his unprecedented seven decades of recording.
Sinatra was among the first singers to reach back into earlier periods for his material. Almost a fourth of our CD tunes come from the 1920s, the years spanning his adolescence. The naughty rebelliousness of that decade is so like the Rat Pack years of the 60s, when he tilted gleefully against an anal society.
This homage to Frank Sinatra is made possible by the fine musicians who have graciously contributed to this album, and to the creative arrangers and producers. As in Sinatra's music, the lines between popular music and jazz are fused and almost invisible, creating a delightful hybrid for this grateful singer.
Learnin' The Blues (3:30)
More Than You Know (4:47)
I'm Beginning To See The Light (3:03)
I Can't Get Started (4:08)
I Thought About You (2:41)
At Long Last Love (3:33)
It Had To Be You (2:52)
I Can't Believe That You're In Love With Me (2:48)
The Man That Got Away/It Never Entered My Mind (4:58)
(Love Is) The Tender Trap (2:59)
I Had The Craziest Dream (2:49)
There'll Be Some Changes Made (2:24)
Don't Worry 'Bout Me (4:05)
All Or Nothing At All (4:14)
Imagination (2:37)
You're Getting To Be A Habit With Me (3:45)
The Lady Is A Tramp (2:49)
Music Producers: Larry Natwick, Andre St. James
Project Producer: Almost Famous Productions
Musicians: Larry Natwick, piano; Andre St. James, bass; Donny Osborne, drums; Mike Horsfall, vibes; Edith Broadway, violin; Tina Alexander, violin; Mary Rowell, violin; Kjersten Oquist, viola; David Eby, cello; Skip vonKuske, cello; Heather Blackburn, cello (on "More Than You Know" and "I Thought About You")
Strings arranged and conducted by Gordon Lee
Recorded at: Falcon Recording Studios, Portland, Oregon
Engineer: Dennis Carter
Mastering: Sean Norton
Photographer: Owen Carey
Art Director: Katherine Kennedy© Almost Famous Productions. All rights reserved. Used by permission. Unauthorized reproduction of this recording is prohibited by federal law and subject to criminal prosecution.