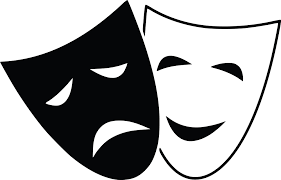 "Madelyn," a one-act play, in Black Horse Review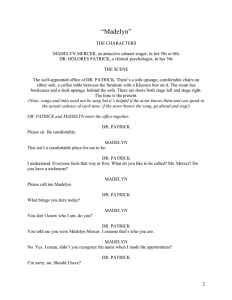 Joan Davis is a faded television star whose remaining joy is her relationship with the very married Eddie Cantor. When she meets a woman who idolizes her, her life begins to look up—at least for a while.
CAST OF CHARACTERS
JOAN DAVIS                                     A blowsy, alcoholic former star, in her mid-50s
LORENA                                            JOAN'S loyal maid
EDDIE CANTOR                               JOAN's former co-star, in his 60s
DONNA                                              A letter carrier, in her 20s
JERRY                                                JOAN's agent (VO only)
TIME
Late 1950s
"Hedda the Hopper," a dark comedy, reading at Midwest Dramatist Conference in September
Two women discuss life and death issues in a vet's office until they are interrupted by an inept robber.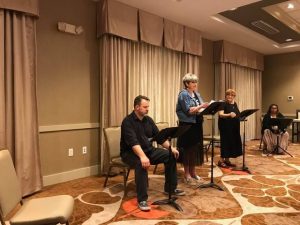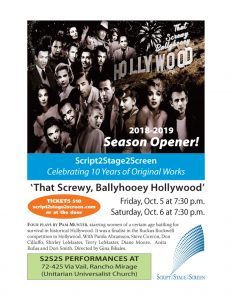 "That Screwy, Ballyhooey Hollywood"
This new two-act dark comedy opened the fall season for Script2Stage2Screen in Rancho Mirage, California. Performance dates were in October 2018.
'Screwy' consists of four separate plays, all starring women of a certain age as they battle for survival in historical Hollywood.
Several of the individual plays have already received recognition. The entire play was a finalist in the Ruckus Rockwell competition in Hollywood and is a semi-finalist in the national AACT competition. It was an alternate at the William Inge Short Play Festival, too. One, "Madelyn" was selected by the Secret Theatre in New York for its one-act festival. It was selected for a staged reading by The Playwrights Center in Minneapolis, MN.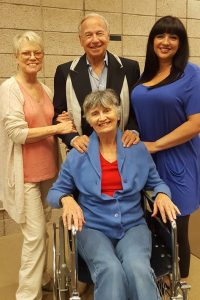 "Life Without"
"Life Without" was nominated by the Desert Theatre League for Outstanding Production (Staged Reading – Professional), Outstanding Director (Gina Bikales), Outstanding Male Performance (Arnie Kleban) and I was also nominated for The Bill Groves Award for Outstanding Original Writing.
"Life Without" is a two-act dark comedy. It opened the season for the staged reading series for Script2Stage2Screen in Rancho Mirage in 2016, directed by Gina Bikales. "Life Without" was also a semi-finalist in the Ebell Theater Playwriting Competition in Los Angeles.