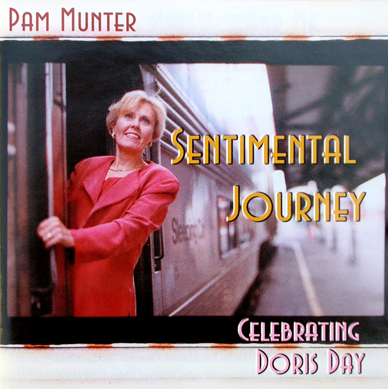 This album emerged from several incarnations of my cabaret show, "Sentimental Journey: Celebrating Doris Day." Along with the show, it is offered as a very personal tribute to the person who influenced and inspired me during my childhood and adolescence.
It is easy to forget that she has not made a movie in over 45 years, so vivid is her legacy even today. We have sought to interpret her music with the affection, appreciation and perspective that only the passage of time allows.
Thank you, Doris.


Sentimental Journey (3:14)
Everybody Loves A Lover (2:30)
Love Me Or Leave Me (3:18)
Sam, The Old Accordion Man (1:58)
With A Song In My Heart (2:33)
Shanghai (2:07)
Pillow Talk (2:04)
The Song Is You (2:09)
When I Fall In Love/If I Give My Heart To You (medley) (3:23)
Secret Love (3:31)
A Purple Cow (1:29)
Canadian Capers (2:13)
My Dream Is Yours (4:24)
Teacher's Pet (2:13)
Que Sera Sera (1:57)
Someone Like You (2:53)
Ten Cents A Dance (2:30)
I'll Never Stop Loving You (2:09)
Today Will Be Yesterday Tomorrow (2:01)
Music Producer: Ed Vodicka
Project Producer: Almost Famous Productions
Musicians: Ed Vodicka, piano, additional keyboards, percussion and accordion; Jim Hughart, bass; Earl Palmer, drums
The Singers: Donna Garcia, Bob Joyce, Geoff Kock, Guy Maeda, Dick Wells, Dick Williams
Music arranged and conducted by Ed Vodicka
Senior Engineers: Charlie Paakkari, Jimmy Hoyson
Assistant Engineers: Wil Donovan, Steve Genewick, Mike Glines, Bruce Monical
Mastering Engineer: Ron McMaster
Graphic Artist: Guy M. Maeda
Photos: Owen Carey (cover), Bob Comden, Donna Garcia, Cheryl Castles© Almost Famous Productions, 1998 & 2000. All rights reserved. Used by permission. Unauthorized reproduction of this recording is prohibited by federal law and subject to criminal prosecution.