As Alone As I Want To Be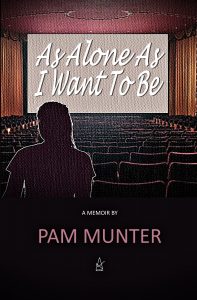 Pam Munter has opted for an unexpected and eventful life. Born in a time when women were expected to be wives and mothers, she has done that and has also been a professor, a musician, a disk jockey, a jazz/cabaret singer, a bandleader, an actor, a clinical psychologist and a writer. Hers is a memoir told in a series of entertaining and often moving essays, a journey through a life lived deliberately—many lives, actually—as seen via a sardonic point of view, an eye for irony and a consistent sense of awe.
What has been said about…
*When Teens Were Keen: Freddie Stewart and The Teen Agers of Monogram
"In the 1940s, right in the middle Hollywood's "Golden Age," there existed a popular song and dance troupe known as The Teen Agers, Monogram Studios' version of post-war clean-cut high school kids. Skillfully and movingly, author Pam Munter delves into the lives of each member of this almost forgotten team of veteran performers. She writes with clarity, knowledge and depth, with an obvious admiration for the members of this group while examining their singular lives; and for the first time in print, uncovering their tragic backgrounds and struggles, successes and failures and the legacy each member leaves today. This unique and original work is a valuable pioneering contribution to the ever-growing canon of Hollywood history."
-Larry Thomas Ward
Author, Truth, Justice & the American Way: The Life and Times of Noel Neill, the Original Lois Lane
*Almost Famous
"Pam Munter has written a candid, insightful, and intriguing account of a life that has been remarkably varied and full…Pam's continual impetus to explore, to try out, to add dimension to her being is a model for those seeking more fulfillment. There is much here that the reader can identify with, learn from, and carry forward into her/his own life."
-James F. T. Bugental, Ph.D.
Pioneer in the Existential-Humanistic Movement and Author, The Search forAuthenticity