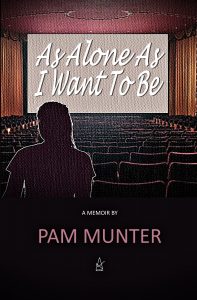 Pam Munter has opted for an unexpected and eventful life. Born in a time when women were expected to be wives and mothers, she has done that and has also been a professor, a musician, a disk jockey, a jazz/cabaret singer, a bandleader, an actor, a clinical psychologist and a writer. Hers is a memoir told in a series of entertaining and often moving essays, a journey through a life lived deliberately—many lives, actually—as seen via a sardonic point of view, an eye for irony and a consistent sense of awe.
Kirkus Review of As Alone As I Want To Be
2/5/19
"Munter (When Teens Were Keen, 2005) recalls a career working as a psychologist, actor, and musician in this memoir.
Growing up in the 1950s in the Pacific Palisades neighborhood of Los Angeles, the author had an early fascination with the "glamorous and unknowable" lives of Hollywood celebrities. She had a burning desire to be like Doris Day, and she was enamored by a moment in the film By the Light of the Silvery Moon, when the actress "emerged from under a model T, all greasy, having successfully fixed the family flivver"—which she notes was radical for the "sexist 1950s." Like Day's character, Munter also disregarded the prescribed gender roles of her era; her initial career path led to her to study clinical psychology, and she became "the only full-time, tenure-tracked female in the entire psychology department" at Portland State University in Oregon. The author describes 1970s academia as being dominated by a clique of sexists (or "Rat Men") who vindictively sought to impede her progress. But Munter was tenacious, and she developed a media presence as a TV psychologist, to the disdain of her "rat colleagues." A foray into show business offers another example of the author's determination: "It all started innocently enough. I just wanted some voice lessons," she writes, but it led to a radical career change. She eventually recorded an album for Capitol Records and performed cabaret in New York City. She also worked as a character actor, receiving her first movie role in the 1999 film Birddog.
As a writer, Munter shoots straight from the hip. Her self-understanding is clearly reinforced by her expertise as a clinical psychologist: "my personality was composed of both male and female characteristics—classic androgyny—when that was not mainstream or even socially acceptable." Throughout her life, she says, she was reminded of her "outsider status" but never surrendered to convention. At one point, she describes a 20/20 interview with TV personality Geraldo Rivera in the late 1970s, in which he questioned her about a cult; she'd treated a few of its members. As Munter notes, Rivera was "known for his incisive questioning," but when he impatiently asked her to "say something more dramatic," she remained professional and avoided "slipping into personal invective." She's not one to sugarcoat an encounter, though; she also acerbically narrates that "the effluvia in his wake made it nauseatingly clear he had not had time to shower that morning." However, the author is unafraid to turn her critical ferocity upon herself, as well. About seeing herself on the big screen for the first time, she writes, "In every neurological cell, I had hoped to be scintillating, memorable, even great. But I wasn't." The memoir suffers from occasional, unnecessary repetition, as when Munter twice describes how, as a teenager, she'd pretend to take a phone call from an agent in a restaurant. However, this doesn't detract from the memoir's inspirational portions, which urge women to realize their dreams.
A textured, sometimes-cutting remembrance of a life of remarkable achievement."