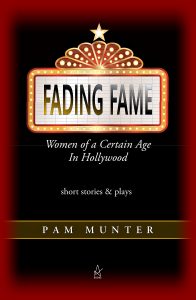 Fading Fame: Women of a Certain Age in Hollywood is a collection of ten short stories and two short plays about the troubled lives and subsequent choices made by strong and talented women who survived #MeToo, but have aged out of the profession they love. Each copes in a different way, some better than others, some not at all.
FADING FAME
Women of a Certain Age in Hollywood
Pam Munter Manuscript
BOOK REVIEW
Munter probes the lives of Hollywood women after the lights have gone down in this debut collection of fiction and drama.
Hollywood has always been a fraught place for women, no matter how famous they are…or were. In these stories, which often feature the fictionalized lives of real women from Hollywood's history, Munter examines the less glamorous half of things—i.e., the part that happens after the age of 40. In "Frances," the successful screenwriter Frances Marion sees her old friend and collaborator Mary Pickford for the first time in years. Frances has found success (and frustration) in her career, but Mary has completely fallen apart. "Deconstructing Doris" stars Doris Day, who realizes that her late husband—the man she thought had saved her and her career—had actually stolen from her for years and left her deeply in debt. "Ethel" follows Ethel Barrymore. Her 60-year career may finally be winding down to its final scene. It just so happens that the scene is opposite Frank Sinatra, however, and Ethel plans to give it all she's got…especially since she's already given her whole life to show business. Other stories feature fully fictional characters, like "Madelyn, Mostly," in which a celebrated singer goes to a therapist after the wrong lyrics keep intruding into her songs. Have years of unaddressed trauma finally found a way to come out? After the stories are two comedies for the stage. "Life Without" is a two-act play about two middle-aged couples; each features one partner who still dreams of making it in the theater. When a flooded apartment forces the foursome to temporarily bunk together, the tensions may be the end of both relationships…or provide just the solution everyone is looking for. The one-act "Janet Drake, Private Eye" follows two aging actors. Each played the eponymous detective—one in the radio series, one in the television series—and each hopes to reprise her role in a new film adaptation.
Munter writes purposefully about the systemic misogyny that has dominated Hollywood throughout its history, from predatory producers on casting couches to women being considered too old before they were out of their 30s. A common theme is the exploitation perpetrated by the various husbands who only continue the damage started by other men. "There must be a reason she had gone through four husbands," reflects Frances Marion on her drive to Mary Pickford's house, "each impotent in his own way—perverse, inept, clumsy or drunk. She wasn't sure what it was but now and again, inklings of other possibilities caused her too much discomfort to pursue the thoughts any further." The stories are rarely knockouts, but the prose is always sharp, and the book proves to be more than the sum of its parts. There is something energizing about watching Munter attack the same subject from different angles, filing one story after another like pieces of evidence in a decadeslong argument detailing exhausting exploitation, humiliation, and hardship. Hollywood is a place where dreams crash upon the shores of reality, but as the experiences of these women—real and fictional—show, life doesn't end with the crash.
A thought-provoking, well-crafted collection of Hollywood survival stories.